Read here about the newest results of SUMP Reviews!
The objective of the "Sustanable Urban Mobility Reviews" is to conduct a "local sustainable mobility audit" in each participating cities (Győr, Darmstadt and Glyfada). The expected end result was to create a profile of the SUMP situation, prospects and possibilities in relation to the local community's needs and aspirations, mapping challenges relating to sustainable mobility.
In order to reach the above objective, several methods were used:
Focus group meetings of citizens and stakeholders, to discuss their perception of the role and prospects of sustainable mobility in their area and their city
Interviews with representatives of local associations, e.g. neighbourhood associations, local trade associations, environmental associations etc.
Interviews with the planning and transport departments of the local authorities
Interviews with teachers of education institutions present in the area, to collect information on the extent to which SUMP is included in formal or informal education of students, and in what form.
Onlne questionnaire survey delivered to the inhabitants of a previously defined case study area in each of the 3 participating city.
---
A "case study area" has been selected in each of the cities, in cooperation with the City Council. These selected neighbourhoods will also define the testing ground for the learning methodology and the learning tools to be developed in the later stages of the project.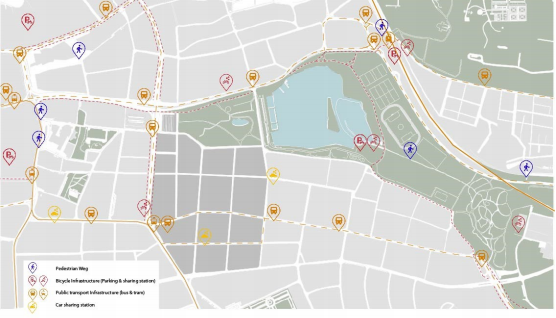 After the selection of case study areas, a consultation with local stakeholders was conducted on several levels. A report was prepared for each case-study neighbourhood (called the "National Reports"), outlining the current situation in relation to sustainable mobility opportunities, challenges and prospects, summarising the current situation regarding SUMP in the city and the case study area, and presenting the attitudes, opinions, proposals and behaviour trends of the inhabitants in relation to the use of alternative, environment-friendly transport means, while reducing the use and number of cars.
---
Read the National Reports here
National Reports are available in English, and they are accessable by clicking the following buttons:
---
Read the Synthesis Report here
On the basis of the three case-study area reports (National Reports), a Synthesis Report was produced, summarizing the main issues and challenges in each area, as well as the attitudes and behaviour of the inhabitants, drawing comparative conclusions across participating cities.
The Synthesis Report in English is available by clicking on the following button. (For national translations, please visit the City Pages!)